First, congratulations to the Staff and Members of the association for an informative and entertaining conference at Harrah's Resort and Casino in Atlantic City.
A couple of shout-outs are in order: Donna Wrobel, the Association's President and Assistant Director for the Archdiocese of Newark, and Regina Lamptey, ABM's Regional Risk Manager and the Conference Program Chairperson, did an outstanding job organizing the event and making sure it ran with professional efficiency. Kudos to both ladies.
The presenters were interesting and, in many cases, thought provoking. A special mention of Dr. Tom Dwyer, who, as he did at the recent Millennial Seminar organized by Capehart & Scatchard Attorney John Geaney, delivered an exceptional presentation focusing on the intersection between workers' compensation and orthopedic medicine.
There was an interesting panel on Utilizing Social Media to Schedule Strategic Surveillance. Another panel that caught everyone's attention, moderated by Ann DeBellis, Esq., of New Jersey Manufacturers Insurance Company, discussed Pain Management, Medical Marijuana and Interventional Spine Techniques. No free Cannabis samples, though.
It was also a big couple of days for us at Workers Compensation Psychological Network. In addition learning a lot, making many new friends and even managing to leave Harrah's without contributing much to the casino's profits, we had a highly successful launch of our venture.
While we were happy to meet so many of New Jersey's key workers' compensation players, we were even more gratified for their deep interest in how we might help them deal with the many thorny mental health issues that crop up from time to time.
One of the things that seemed to impress the conference attendees was the breadth of our geographic coverage. We built a county coverage map to illustrate it.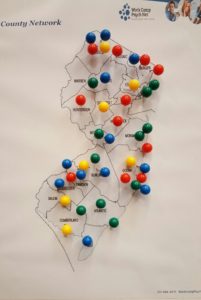 Another thing that seemed to hit home was the responsiveness of the system. Workers Compensation Psychological Network's online referral portal allows instantaneous referral, saving adjusters and attorneys considerable time and effort. The last thing these extremely busy professionals want is to have to spend hours, days or even weeks tracking down the help they need. Our first-in-the-nation online referral system eliminates that.
One final congratulation is in order: As the conference was scheduled for the first day of the NFL draft, the organizers chose the theme, "Drafting The Right Workers' Compensation Team." All vendors competed for the prize for the best display illustrating that theme. So, we salute Team Kirshner, of the Kirshner Spine Institute, for its historic win (although, with our superb Pittsburgh Steeler Display, we have to say, "We wuz robbed!").