There are perhaps four organizations conducting the most important and highly respected research into workers' compensation in the country. The Workers' Compensation Research Institute (WCRI), located in Cambridge, Massachusetts, is one of them. The others are the National Council on Compensation Insurance (NCCI), the International Association of Industrial Accident Boards and Commissions (IAIABC) and the California Workers' Compensation Research Institute (CWCRI).
This morning, the WCRI released an 18 state study looking at how the various states compare with respect to the degree of attorney involvement in workers' compensation claims. Attorney involvement occurs when a worker hires an attorney to handle a work injury claim.
These 18 states were selected for this study because they are geographically diverse, represent a range of system features, and represent the range of states that are higher, near the middle, and lower on costs per claim.
New Jersey's claims adjusters and defense attorneys don't have to be told that an awful lot of cases are disputed and wind up before a judge. They intuitively sense this happens in NJ more often than in other states. However, the WCRI's study moves intuition to fact.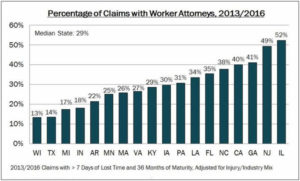 Only Illinois, a state with perhaps the most messed up workers' compensation system in the country, has more cases  handled by attorneys.
The US did not create workers' compensation. That honor belongs to Germany and dates from 1884. Britain followed suit shortly thereafter, but it wasn't until 1911 that Wisconsin was able to enact the first legislation in America (note that of the study states Wisconsin, with 13%, has the lowest level of claims where attorneys become involved).
It is ironic, indeed, that one of the primary reasons state-based workers' compensation systems were created was to get the lawyers out of the picture. Until then, with no system at all, injured workers were forced to sue their employers when they suffered work injuries.
How far we've come since that grand vision. Now, with 49% of all work injuries disputed by warring attorneys, New Jersey stands near the top of a motion-filled mountain. If anyone thinks that's going to change anytime soon, we have some choice real estate for sale in Florida (just as soon as the tide goes out).
You can access the WCRI study here (free for WCRI members; $5.00 for all others – a bargain).